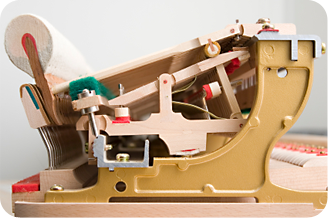 A piano will always eventually go out of tune due to the high tensions continuously being exerted on to the frame. This is the main reason for regular tunings. Variable temperatures and humidity, frequent or heavy playing will increase the need for more frequent tuning.
Tuning twice a year is a good rule of thumb for an average piano in a domestic situation though some old instruments may require more regular tuning.
We will be happy to tune up your old family piano at your house or a concert piano at a concert hall or music festival, or an upright piano at a church, temple or classroom – whatever the make and wherever your instrument is, we will tune your piano with the same tender loving care.
For over 20 years, we have been servicing the finest pianos in the world, as well as less known instruments, including
Baldwin, Steinway and Sons, Bosendorfer, Yamaha, Kawai, Chickering, Knabe, Boston, Schimmel
and many other quality pianos.
With hundreds of regular piano tuning customers, we could arrange a fully qualified piano tuner to take good care of your piano in a wide area that goes from Downtown Chicago up north almost to the outskirts of Wisconsin. If you're calling from further locations we'll still go there, but might charge a little more for extra mileage. Call us anyway, all our prices are negotiable.
We do all other services, that a piano ever needs, besides tuning, including
regulating the touch, voicing hammers, fixing sticky keys, regulating pedal mechanism, replacing parts
, etc. No matter what you need – minor or major repairs – we will take good care of your piano.