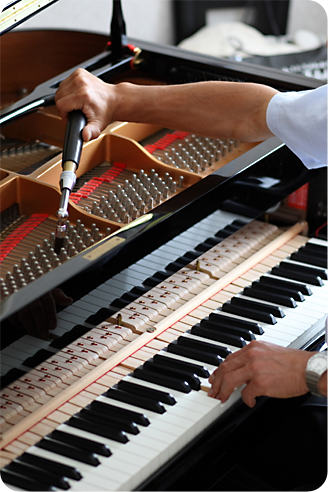 Chicago Piano Tuning
was founded by Denis Peshenko. Denis is an accomplished piano tuner/technician. His name is known in the musical world of Chicago since 1993. He brought along his family trade of piano tuning and his piano tuning expertise from Europe, and continued his family tradition of excellent piano service by tuning Baldwin, Yamaha, Steinway and other pianos in Chicago and Chicago suburbs. He serviced numerous pianos for well-known performers and famous stages as well as countless instruments in recording studios, homes and private clubs. Big and small, old and new, all pianos that Denis Peshenko has ever serviced were kept in their best performance shape. You will never regret calling Denis for servicing your piano. His work is based on experience and talent. His prices are competitive. His clients are happy.
Below is a partial list of very-well known performers and venues that Chicago Piano Tuning has worked with over the years:
Chicago Symphony Orchestra (CSO)
Daniel Barenboim
Michael Feinstein
Bobby Short
Natalie Cole
Oprah Show
Joffrey Ballet
Ravinia Festival
Auditorium Theater
Oriental Theater
Lake Shore Theater
Navy Pier Sky Line Stage
Chicago Art Institute
Testimonials
"Denis Peshenko is an outstanding piano tuner! His understanding of the instrument and talent keeps our pianos always in tune. He also makes himself available at a moment's notice, always able to accommodate our busy recording schedule. Not only is he good at what he does, he is ethical, friendly and trustworthy."
Derrick "Suede" Stout
President & CEO
Darwin Records
"Denis is always on time and dependable. He tunes with speed and accuracy. Denis has always said he would return if there was a problem with the tuning which there never has been. I will continue to recommend Denis as a skilled piano tuner."
David Balsie, musician, song writer.
"Denis Peshenko is a highly trained piano technician. Since I started using his services in 1995, he's never failed the promise of a best job's result. My grand piano has been used all the time for lessons, and with Denis's help, it sounds great and overall is in perfect shape. I always recommend his services to all of my students. I'm very happy that I found such a professional to take care of my piano."
Isabella Korolinsky, piano teacher.
"As the General Manager of Karnes Music it has been mine and the Karnes' staff's good fortune to have the resources of your expertise, not only for the products displayed in our showrooms, but for our customers as well. It's always been important to me that any technician representing our company in a customer's home, or even at a performance venue where our name and products were show cased, presented the highest level of integrity and reliability. You've always come thru, Denis, and those calls from customers requesting your 'come back' for their follow-up tunings speaks volumes regarding their appreciation of your work."
Mark R. Owen, Karnes Music
"It is nice to have a piano tuner, who you can trust, like a family doctor... His personality is a bonus to his proficiency in tuning pianos. From the first time, Denis Peshenko tuned our 30 year old Yamaha upright, we started really and fully enjoying it, like never before. Thank you, Denis! We appreciate you and your skills!"
Sincerely, Robert and Grace Wolf, Highland Park, IL
"My name is Scott Beld. I have been in the Chicagoland piano business for the last twenty years. I am very pleased to say that Denis is my favorite piano tuner and very glad to call him my friend. His quality of work is ALWAYS consistently good and ALWAYS professional."
Scott Beld, Piano sales, Musician